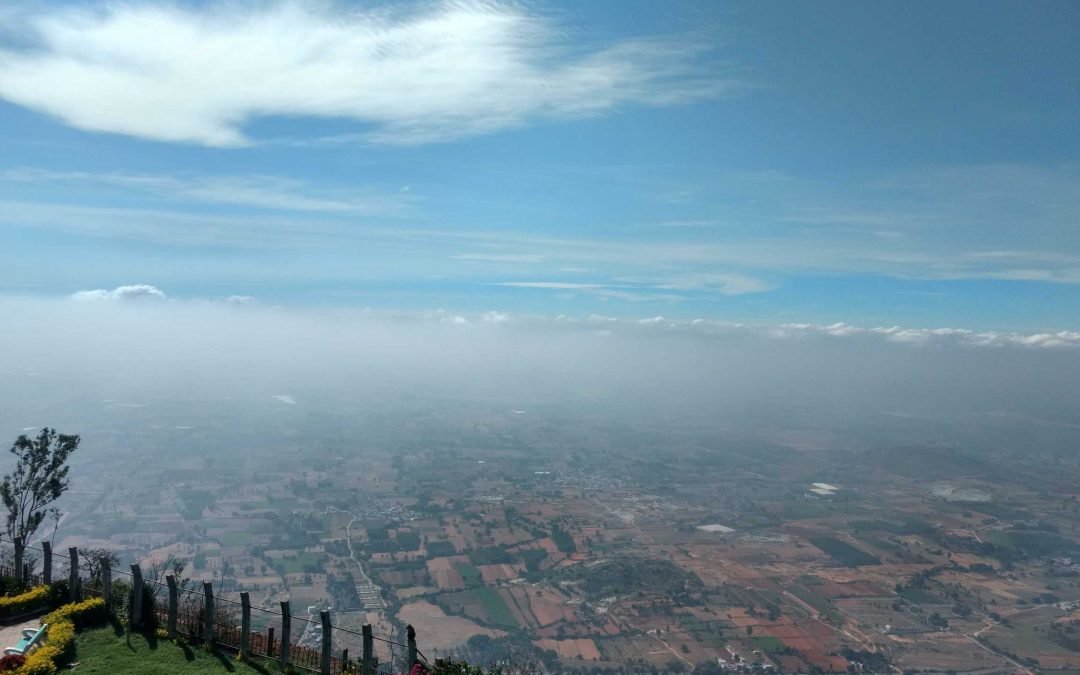 Nandi hills also known as Nandi betta (in Kannada) and  Nandidruga is an excellent choice if you are planning a one day trip from Bangalore. It is situated at 4,851 ft above sea level and offers magnificent view of the surroundings from the top. Having historical connection with the great Tipu Sultan, this place evolves around interesting stories which can be very exciting to hear. With a dash of history, and awestrucking views to vest your memories with, a trip to Nandi hills can be a trip to remember forever.
Take Bangalore Bellary road(Hydrabad highway) -> reach Devanahalli cross (after the first toll once you cross hebbal) -> which is on the 36 th milestone.
Take the deviation on the left and travel about 11 kilometers to reach Nandi cross.
Take Left (Doddaballapur road) and travel 3 kilometers to reach the foot of the hill.
On the Doddaballapur road, turn right to reach the road that leads to the top of the hill.
From the foot hill it is 8 kilometers to the top.
Weather
25°C to 28°C during summer and 8°C to 10°C in winter.
Best Time
Throughout the year, OCT TO JUN (During Sunrise)
Ideal duration
ONE DAY (DAY OUT)
Timings
Open from 6:00AM to 6:30PM
ENTRY FEE
YES. (PARKING FEE + CAMERA FEE + ENTRY FEE PER PERSON)
PLACES TO VISIT AT NANDI HILLS
Yoga Nandeeshwara Swamy Temple:
The main worshiping god of the temple is Lord Shiva. Yoga Nandeeshwara temple was built by the Cholas during the Chola period. And a story is that Yoga Nandeeshwara performed penance here, and so it was named after him. This temple of Yoga Nandeeshwara is situated on top of the hill. The temple is architecturally rich, beautiful and has so many intricate carvings and pillars.
Tippu Drop was used to punish the criminals during Tippus reign. This place was used to push people (criminals) off the cliff to their death as punishment for the wrong deeds From Tippu drop you can get beautiful view of the surrounding hills and nandi village (nandi grama). You feel like you are standing above the horizon of clouds. NOTE: Many committed suicide or accidentally slipped into the cliff. Please take extreme precaution. Good news is now it is fully fenced. Please don't cross the fence which is for your safety.
This lake is also known as "The Lake of Nectar". It's a beautiful lake which remains filled with water throughout the year. It is situated atop the hill.
Tippu Sultan's fort is one of the most visited places in Nandi Hills which displays rich Mughal kind of architecture. This fort constructed 4,851 ft above sea level. This was once the summer palace of Tippu Sultan.
Other main attractions of Nandi Hill's are : Palar River Origin, Arkavathi River Origin, Brahmashrama, Gavi Veerabhadra Swamy Temple, Horse Way, Childrens Playground, Nellikayi Basavanna, Secret Passage,..etc
"Subscribe / Register to our website and Write Comments. We are sure you will get exciting give away goodies."
The Writer and ME
Well, by profession I am a content writer, so it happens to be that I can juggle between words quite well, but when it comes to narrating my own journeys and travel stories, I never really gave it a thought. Many of my peers suggested to look at various travel sites and plan one of my own, and I simply ignored thinking why would be someone interested in reading my travel stories. But then, I started reading a lot, a lot of bloggers whose words are so powerful that they could make you pack your bag and start a journey to reach far mountains. I was mesmerized and spellbound. Thanks to a number of bloggers who don't just work as a travel guide but provide a source of great motivation to me.
Why I started writing?
As mentioned at the beginning, I like to share my experiences with my friends, family and who not. I started blogging with the thought that documenting whatever I have gone through during my travel days be it bad or good would help other travelers get a hint and tips to plan their trips in a better way. In my blogs, one can find ways to complete a trip with low-budget, as I prefer backpacking over luxury.